PRODUCT INFORMATION
MATERIAL
Shipping
CUSTOMER REVIEWS
PRODUCT INFORMATION
Many of us who love avocados eat them one half at a time and save the rest for later. Avocado Huggers are designed to keep the leftover half fresh for longer. Our set of two sizes makes sure you're covered for avocados large and small. And the unique pit pocket can be pushed in or out, ensuring a good hug whether the half you're saving has the pit or not.
Set of 2 sizes ensures that you have a cover for all sizes of avocados 

Patented design gives your avocado the best protection possible 

No more plastic wrap, baggies or foil

Buy it once! We offer a Lifetime Warranty 

100%Dishwasher safe & easy to clean

100% BPA and phthalate free

Support women owned & inventor owned small business 

Watch the video (below) to see them in action!
Avocado Huggers® | Avocado Toast from Food Huggers on Vimeo.
MATERIAL
Contents: 100% BPA-free silicone
Packaging: recycled paper
Shipping
US & CANADA
EUROPE & AUSTRALIA
REST OF THE WORLD

$125 or less

flat $16 CAD

over $125

FREE

$150 or less

flat $40 CAD

over $150

FREE

PLEASE CONTACT
Why We Love Food Huggers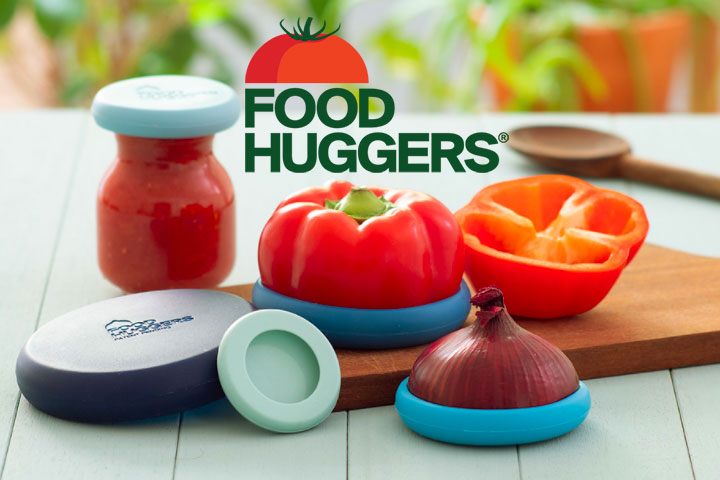 The average American family of four throws away $1600 a year in wasted food. Canada and rest of the developed world does not fare much better. Reducing this financial and unnecessary waste helps to improve the economics of our households as well as our communities.
Meet Food Huggers, helping you save your food and veggies one half at a time. Since their Kickstarter launch in 2013, Food Huggers has grown to be a favourite in kitchens nationwide. Throughout this success, founders Michelle Ivankovic and Adrienne McNicholas have stayed true to their commitment to high quality ingredients, like their FDA food grade silicone. Company's mission is to help customers reduce different types of waste at home. Food Huggers designs keep your food fresh at home replacing single use plastics with high quality reusable alternatives.
No related articles found.