PRODUCT INFORMATION
INGREDIENTS
Shipping
CUSTOMER REVIEWS
PRODUCT INFORMATION
Formulated for volumizing and texture, the Buck Naked Mermaid Bar is made with skin and hair nourishing oils as well as a Dead Sea salt sole solution that maximizes these effects. Highly therapeutic due to the high concentration of minerals in Dead Sea salt, the sole solution in this bar helps soothe dry, itchy and flaky scalp while helping promote healthy hair. Dead Sea salt may also help rebalance irritated or greasy scalps.
INGREDIENTS
Cocos Nucifera (Coconut) Oil, Aqua, Castor Oil, Cannabis Sativa (Hemp) Seed Oil, Maris Sal (Dead Sea Salt), Sodium Hydroxide, Eucalyptus Globulus Leaf Oil, Citrus aurantium bergamia (Bergamot) Fruit Oil, Citrus Reticulata (Tangerine) Oil, Kaolin
Shipping
US & CANADA
EUROPE & AUSTRALIA
REST OF THE WORLD

$125 or less

flat $16 CAD

over $125

FREE

$150 or less

flat $40 CAD

over $150

FREE

PLEASE CONTACT
Why We Love Buck Naked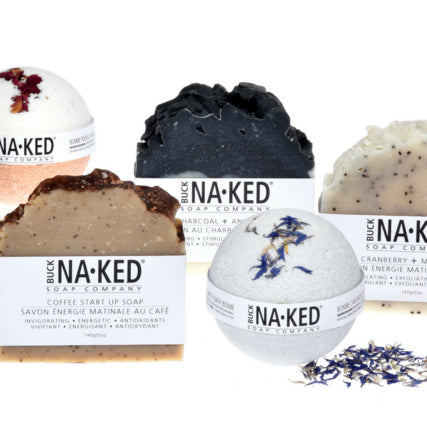 Buck Naked is local, Ontario based company, founded in 2013 by Rina Clarke and her husband John Lindsay. Born out of necessity to find a remedy for their infant son who had allergic reactions to chemicals commonly used in beauty products, Rina started exploring all natural options for soap. Fastforward few years and Buck Naked products can be found on many store's shelves across North America.
Since inception, Buck Naked introduced a full line of all-natural, vegan, handcrafted skin care products. They're committed to being chemical-free, using only pure, natural ingredients. On this, they are unwavering: if you can't (or shouldn't) eat it, we won't use it. Buck Naked is "PETA-Approved Vegan" and "PETA Cruelty-Free" certified.
Buck Naked prides itself on being a natural, vegan, sustainable bath, body and beauty brand that is bold and uncompromising. Being Buck Naked is more than the sum of its parts, and more than just a punny reference to being natural or au naturale.