PRODUCT INFORMATION
Shipping
CUSTOMER REVIEWS
PRODUCT INFORMATION
Gift this great BKIND gift box to those BKIND lovers in your life or yourself!
Love me & bkind charcoal gift set includes:
- BKIND exfoliant visage activated charcoal face scrub dull skin
 BKIND activated charcoal face scrub has been created for your skin to be softly exfoliated and hugely moisturized at the same time. 
Perfect for acne prone skin: this face scrub will clean your pores deeply and fight blemishes.
Suitable for sensitive skin.
Wet face with warm water. Apply a small amount of the face scrub and massage it on all your face, then rinse. (Don't forget to rinse your face with only water in order to keep all the active ingredients on your beautiful skin!)  Made in Canada

- BKIND konjac sponge infused with bamboo charcoal
Your beauty routine will never be this easy! Our Konjac facial sponge infused with bamboo charcoal cleans your face in a single step without soap!
This Konjac sponge is perfect for oily and acne prone skins.
Activated bamboo charcoal: Infused with activated charcoal, this Konjac sponge is perfect for oily and problematic skins. In fact, activated charcoal has the power to act like a magnet: it absorbs the sebum, retires impurities and let your skin fresh, clean and matte.

- BKIND berries lip balm
Sensitive and delicate, your lips are quickly affected by outside aggressions such as weather changes, so they need a little help to stay soft and well moisturized: BKIND lip balm will create a protective barrier against further cracking and will get a long-term hydration to your lips, leaving a sweet scent of berries and a wonderful glossy finish.
Apply on your lips when needed. For better results, apply a larger amount at night, before bed.  Made in Canada

| | |
| --- | --- |
| HEIGHT: | 180 cm - 5' 11" |
| BUST: | 83 cm - 32" |
| WAIST: | 57 cm - 22" |
| HIPS: | 88 cm - 35 |
| SHOE SIZE: | 39 - 6 |
Note: you can configure unique tab per product
Shipping
US & CANADA
EUROPE & AUSTRALIA
REST OF THE WORLD

$125 or less

flat $16 CAD

over $125

FREE

$150 or less

flat $40 CAD

over $150

FREE

PLEASE CONTACT
Why We Love BKIND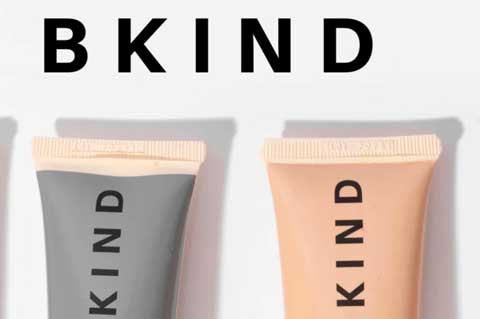 BKIND born in 2014 in Montreal is a brand that finds its roots in the consciousness of everything surrounding us - This value combined with their passion for natural skincare makes BKIND a company that offers natural products that are effective and high quality.
Their mission is simple: BKIND [Be Kind] to everything, be respectful and thoughtful to everything around us. BKIND backs it up with choosing only natural and high quality ingredients for their skincare and beauty products. They donate 2% of their sales to different animal welfare organizations, so every time you buy their product you support animal shelters. BKIND is a Leaping Bunny Program certified company, meaning their products are 100% vegan and not tested on animals. Also, some of their tubes are made from OceanBoundPlastic. Plastic found during cleaning of water shores.
BKIND's best selling line of products include konjac facial sponges, solid shampoo and conditioner bars, non-toxic nail polish, face moisturizers, wooden hair brush, face and body scrub, hand and lip balms. If you're looking for high quality and all natural skin or hair care products, BKIND is certainly a brand to try.