PRODUCT INFORMATION
INGREDIENTS
Shipping
CUSTOMER REVIEWS
PRODUCT INFORMATION
In the early days of the American Frontier, rugged pioneers indulged with a dry buffalo steak and a pull of whiskey, not a $12 appletini and plate of bruschetta.
Duke Cannon honours that independent, pioneering spirit by partnering with Buffalo Trace Distillery to add their award-winning Kentucky Straight Bourbon Whiskey to this Big American Bourbon Soap.
Weighing in at a full 10 oz., this large, American-made soap has a rich, oak barrel scent that smells as good as bourbon tastes. 
2-3x the size of common, dainty soaps
The unique, oak barrel scent is masculine and outstanding, but not overpowering
Yes, we really put delicious Buffalo Trace Bourbon in the soap
Does Bourbon benefit the skin? We have no idea, but bourbon tends to make everything better, so why not?
Size: 10 oz. bar.
INGREDIENTS
Sodium Tallowate and/or Sodium Palmate*, Sodium Cocoate, Water, Glycerin (Vegetable), Fragrance, Citric Acid, Sodium Chloride, Buffalo Trace Bourbon, Iron Oxides
*Made with RSPO Certified Palm Oil
Shipping
US & CANADA
EUROPE & AUSTRALIA
REST OF THE WORLD

$125 or less

flat $16 CAD

over $125

FREE

$150 or less

flat $40 CAD

over $150

FREE

PLEASE CONTACT
Why We Love Duke Cannon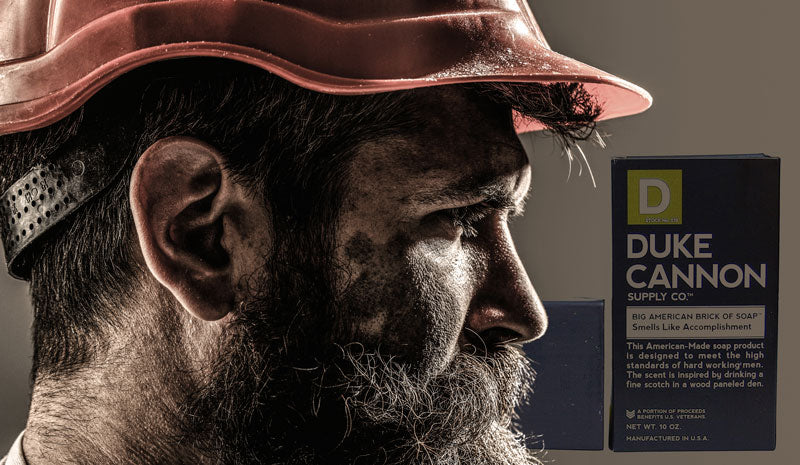 Duke Cannon was founded in on Veterans Day in 2011 as a premium men's grooming brand. The company is based in Minneapolis, Minnesota and specializes in high-quality soaps, shaving products, and other bath and body care items for men. Duke Cannon's products are designed to meet the needs of today's discerning man who wants the best performance and quality from his personal care products. All Duke Cannon products are Made in the USA with only the finest ingredients.
This "proudly unpolished" company takes its inspiration from active duty soldiers, and partners with the military to continue to gain insight into what works well and what doesn't when it comes to grooming products. A portion of Duke Cannon's proceeds goes directly towards veteran causes, ensuring that those who have served our country receive the support they need.
Their products are paraben free, sulfate free and free of all the BS that you can find in other men products. We're happy to have their products in Canada.
No related articles found.