PRODUCT INFORMATION
INGREDIENTS
Shipping
CUSTOMER REVIEWS
PRODUCT INFORMATION
Mined from ancient sea beds in the Himalaya, this mineral-rich salt is thought to be the purest available. Including over 84 minerals and trace elements to nurture balance, our soak helps maintain skin's moisture and can be used to stimulate circulation and relax and soothe sore muscles. The unique ionic energy from Himalayan salt also helps draw toxins from the body.
Advantages of Himalayan Salt:
Himalayan Pink Salt becomes a powerful detoxifier as this ionic salt solution helps extract the toxins from your skin and tissues. The Himalayan pink salt penetrates your skin, leaving you feeling refreshed and nourished.
Soaking in a Himalayan salt crystal bath is like recharging your batteries. As your body organs resonate with the natural frequency of the minerals in the salt bath, your body is being recharged and energized, boosting metabolism and triggering its self-healing powers.
Promotes better skin hydration, leaving it softer and smoother. The salt gets stored in the upper layer of the skin, plumping it up and creating a natural protective film preventing it from dryness.
Helps heal and bring relief to irritating and painful skin conditions such as acne, eczema and psoriasis, as it helps to promote better skin hydration. It is also effective against insect bites and blisters.
Helps relax and provide relief to cramped muscles and muscle aches, due to the presence of calcium, lactic acid and other trace minerals. It can also help strengthen bones, skin, and connective tissues that may contribute to body soreness.
INGREDIENTS
Sodium Chloride (Himalayan Salt)
Shipping
US & CANADA
EUROPE & AUSTRALIA
REST OF THE WORLD

$125 or less

flat $16 CAD

over $125

FREE

$150 or less

flat $40 CAD

over $150

FREE

PLEASE CONTACT
Why We Love Buck Naked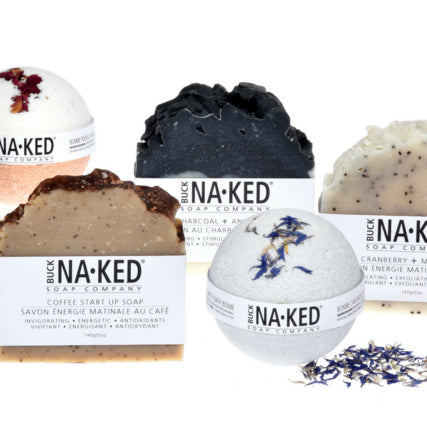 Buck Naked is local, Ontario based company, founded in 2013 by Rina Clarke and her husband John Lindsay. Born out of necessity to find a remedy for their infant son who had allergic reactions to chemicals commonly used in beauty products, Rina started exploring all natural options for soap. Fastforward few years and Buck Naked products can be found on many store's shelves across North America.
Since inception, Buck Naked introduced a full line of all-natural, vegan, handcrafted skin care products. They're committed to being chemical-free, using only pure, natural ingredients. On this, they are unwavering: if you can't (or shouldn't) eat it, we won't use it. Buck Naked is "PETA-Approved Vegan" and "PETA Cruelty-Free" certified.
Buck Naked prides itself on being a natural, vegan, sustainable bath, body and beauty brand that is bold and uncompromising. Being Buck Naked is more than the sum of its parts, and more than just a punny reference to being natural or au naturale.
No related articles found.