PRODUCT INFORMATION
INGREDIENTS
Shipping
CUSTOMER REVIEWS
PRODUCT INFORMATION
What is the point of beard balm?  Beard balm is a concentrated leave-in conditioner that softens, moisturizes and helps to style facial hair. Buck Naked Soap Company Bergamot & Black Pepper Beard Balm is developed specially to deeply condition hair follicle from the inside out, using only vegan oils that are rich in omega fatty acids and antioxidants. 
Does beard balm help beard grow? Yes it does. Buck Naked Soap Company Beard Balm contains growth boosting moisture sealants like argan oil, jojoba oil, shea butter and apricot kernel oil. Nourished hair is less prone to breakage, it won't get brittle and therefore will keep growing fuller faster. 
When to use beard conditioner? The best time to apply Bergamot & Black Pepper Beard Balm is right after washing and drying your beard. This will make sure that you get the maximum benefits from the nourishing oils. It's recommended to apply beard balm regularly to keep the facial hair soft and healthy and growing longer.
Ideal for all skin types
Biodegradable
Vegan
Natural colours
Natural fragrance
Sustainable ingredients
Made in Canada
INGREDIENTS
Prunus Armeniaca (Apricot) Kernel Oil, Hazelnut Oil, Corylus Americana (Hazel) Seed Oil, Argania Spinsosa (Argan) Oil, Butyrospermum Parkii (Shea Butter), Mangifera Indica (Mango) Seed Butter, Simmondsia Chinensis (Jojoba) Seed Oil, Ricinus Communis (Castor) Seed Oil, Glyceryl Stearate, Cetearyl Alcohol, Sodium Stearoyl Lactylate, Tocopherol, Citrus Bergamia (Bergamot) Fruit oil, Piper Nigrum (Black Pepper) seed oil
Shipping
US & CANADA
EUROPE & AUSTRALIA
REST OF THE WORLD

$125 or less

flat $16 CAD

over $125

FREE

$150 or less

flat $40 CAD

over $150

FREE

PLEASE CONTACT
Why We Love Buck Naked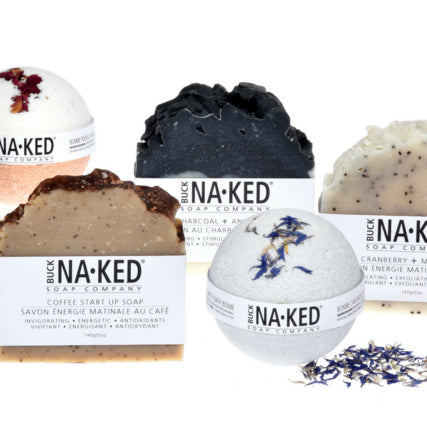 Buck Naked is local, Ontario based company, founded in 2013 by Rina Clarke and her husband John Lindsay. Born out of necessity to find a remedy for their infant son who had allergic reactions to chemicals commonly used in beauty products, Rina started exploring all natural options for soap. Fastforward few years and Buck Naked products can be found on many store's shelves across North America.
Since inception, Buck Naked introduced a full line of all-natural, vegan, handcrafted skin care products. They're committed to being chemical-free, using only pure, natural ingredients. On this, they are unwavering: if you can't (or shouldn't) eat it, we won't use it. Buck Naked is "PETA-Approved Vegan" and "PETA Cruelty-Free" certified.
Buck Naked prides itself on being a natural, vegan, sustainable bath, body and beauty brand that is bold and uncompromising. Being Buck Naked is more than the sum of its parts, and more than just a punny reference to being natural or au naturale.
No related articles found.