PRODUCT INFORMATION
Shipping
CUSTOMER REVIEWS
PRODUCT INFORMATION
In order to reduce the amount of waste we produce daily, BKIND offers you a biodegradable toothbrush: the handle is made of bamboo, a naturally durable and antibacterial wood that guarantees a quality product, soft, lightweight, hygienic and resistant at the same time. The black bristles are infused with 100% natural activated charcoal, which add to our toothbrush antiviral and antibacterial properties.
They deodorize your mouth and are known to absorb chemicals found in tap water, such as chlorine! The bristles are also made with Dupont technology: those are respectful of the environment because they are made from renewable sourced raw material at 67%.
The toothbrush also comes in a little Kraft paper envelope which is 100% recyclable as well.
So why is this worth the switch?
 Biodegradable toothbrush is a nice alternative to the classic plastic toothbrush and is design to respect the environment.
How to dispose of the toothbrush:

Remove the bristles and recycle them
Compost the bamboo handle
Shipping
US & CANADA
EUROPE & AUSTRALIA
REST OF THE WORLD

$125 or less

flat $16 CAD

over $125

FREE

$150 or less

flat $40 CAD

over $150

FREE

PLEASE CONTACT
Why We Love BKIND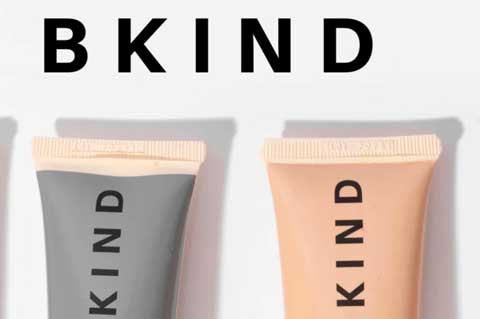 BKIND born in 2014 in Montreal is a brand that finds its roots in the consciousness of everything surrounding us - This value combined with their passion for natural skincare makes BKIND a company that offers natural products that are effective and high quality.
Their mission is simple: BKIND [Be Kind] to everything, be respectful and thoughtful to everything around us. BKIND backs it up with choosing only natural and high quality ingredients for their skincare and beauty products. They donate 2% of their sales to different animal welfare organizations, so every time you buy their product you support animal shelters. BKIND is a Leaping Bunny Program certified company, meaning their products are 100% vegan and not tested on animals. Also, some of their tubes are made from OceanBoundPlastic. Plastic found during cleaning of water shores.
BKIND's best selling line of products include konjac facial sponges, solid shampoo and conditioner bars, non-toxic nail polish, face moisturizers, wooden hair brush, face and body scrub, hand and lip balms. If you're looking for high quality and all natural skin or hair care products, BKIND is certainly a brand to try.
No related articles found.