PRODUCT INFORMATION
INGREDIENTS
Shipping
CUSTOMER REVIEWS
PRODUCT INFORMATION
This combination of coconut, olive and neem oils helps soothe and replenish the delicate nature of your pup's skin and make his or her fur more luxurious. Bark Naked shampoo is formulated to improve the condition of both skin and coat, while doing away with lingering 'dirty dog' smell. 
Coconut oil helps deodorize your pooch.
Olive oil brings more moisture to dry skin.
Neem oil aids in managing itchy, irritated skin vulnerable to yeast flare-ups and hot spots (may also help to repel fleas, ticks and mosquitoes)
INGREDIENTS
Aqua, Olea Europaea (Olive) Fruit Oil, Cocos Nucifera (Coconut) Oil, Neem Oil, Gylcerin, Rosemary Extract, Potassium Hydroxide
Shipping
US & CANADA
EUROPE & AUSTRALIA
REST OF THE WORLD

$125 or less

flat $16 CAD

over $125

FREE

$150 or less

flat $40 CAD

over $150

FREE

PLEASE CONTACT
Why We Love Buck Naked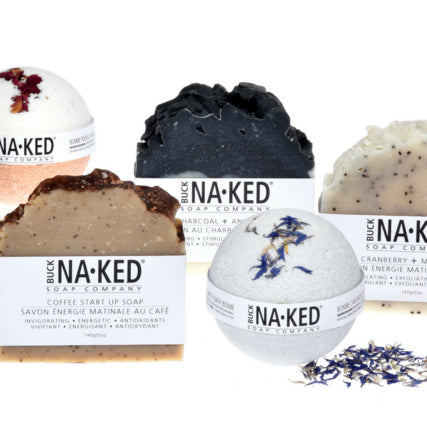 Buck Naked is local, Ontario based company, founded in 2013 by Rina Clarke and her husband John Lindsay. Born out of necessity to find a remedy for their infant son who had allergic reactions to chemicals commonly used in beauty products, Rina started exploring all natural options for soap. Fastforward few years and Buck Naked products can be found on many store's shelves across North America.
Since inception, Buck Naked introduced a full line of all-natural, vegan, handcrafted skin care products. They're committed to being chemical-free, using only pure, natural ingredients. On this, they are unwavering: if you can't (or shouldn't) eat it, we won't use it. Buck Naked is "PETA-Approved Vegan" and "PETA Cruelty-Free" certified.
Buck Naked prides itself on being a natural, vegan, sustainable bath, body and beauty brand that is bold and uncompromising. Being Buck Naked is more than the sum of its parts, and more than just a punny reference to being natural or au naturale.
No related articles found.